How to Choose an under-counter system
2 min reading time
How to choose
Basic protection

Any Aquaphor drinking water system will protect you from chlorine, sediment, lead and many organic compounds. So if you need final water polishing or basic purification any system will provide it. The choice between filtration systems lies beyond just the removal of bad taste and smell.
Dealing with hard water
Excess of minerals (also called hard water) is a concern for many people around the world. You know you have it by limescale build-ups, white stains on glassware and an oily film on the surface of hot drinks. Hard water weakens the joy of having a good coffee, tea or meal, as their taste are severely affected.
The uncompromising solution for dealing with hard water is a reverse osmosis system. It reduces the excess of minerals in water down to the level where it is perfect for cooking and brewing drinks. Aquaphor specialises in producing compact and water-efficient reverse osmosis units, able to cope with a very high water mineralization.
Fighting the invisible threats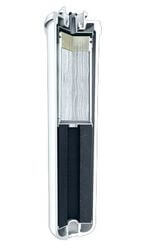 Most dangers in drinking water are not easily spotted: heavy metals, pesticides, medicine or viruses cause harm even in the tiniest quantities and have no taste, smell or color. Here the reliability of the water purifier plays an immense role. All Aquaphor under-counter filters irreversibly trap lead, copper, mercury and other heavy metals.
The best way to protect from any other waterborne threat is a reverse osmosis system that reduces 99.9999% viruses, bacteria, cysts, hormones and antibiotics. The next most effective option is an ultrafiltration drinking water system with a hollow fiber membrane, which provides 99,9% bacteria and cyst reduction.
Technical convenience
Ease of use, maintenance and replacing filters is another point to consider. Aquaphor's know-how of connecting filters to the housing ("click and turn") allows easy, simple and quick filter replacement without additional tools and prevents your contact with retained contaminants. All outer parts, including connecting pipes and fittings, are made of durable plastic which will easily resist possible pressure shocks in the water supply system.

The best solution to have exceptional quality drinking water at home is a reverse osmosis system. Note, technical conditions are required, including certain level of water pressure.

*Reduced contaminants may not be present in all users' water.
---